Contact Information
Brooks College Prep
High School Principal:
Shannae Jackson
Phone:
773-535-9930
Web site:
www.brookscollegeprep.org
Address:
250 East 111th Street
Freshman class size:
50
Admissions
In the 2016-2017 admissions year, Brooks College Prep, a well-established Selective Enrollment High School, opened an Academic Center. In its initial year, Brooks accepted just 50 7th grade students. Most other Academic Centers have student bodies of about 120 per grade level. It's possible that Brooks will decide to expand its Academic Center, however no plans have been announced.
Brooks Academic Center students, like students at other Academic Centers, are automatically accepted at Brooks should they decide to remain for high school. This factor should give a Brooks Academic Center strong appeal to 6th grade applicants.
In its initial year, the average admissions score at Brooks' Academic Center posted an average admissions score of 720 on the 900 point admissions scale. This put Brooks in 5th place among the seven Academic Centers — slightly above Lindblom but behind Kenwood. Average Brooks' admissions scores were fairly flat across the various Tiers meaning that students admitted to the Brooks Academic Center's first class have similar academic backgrounds.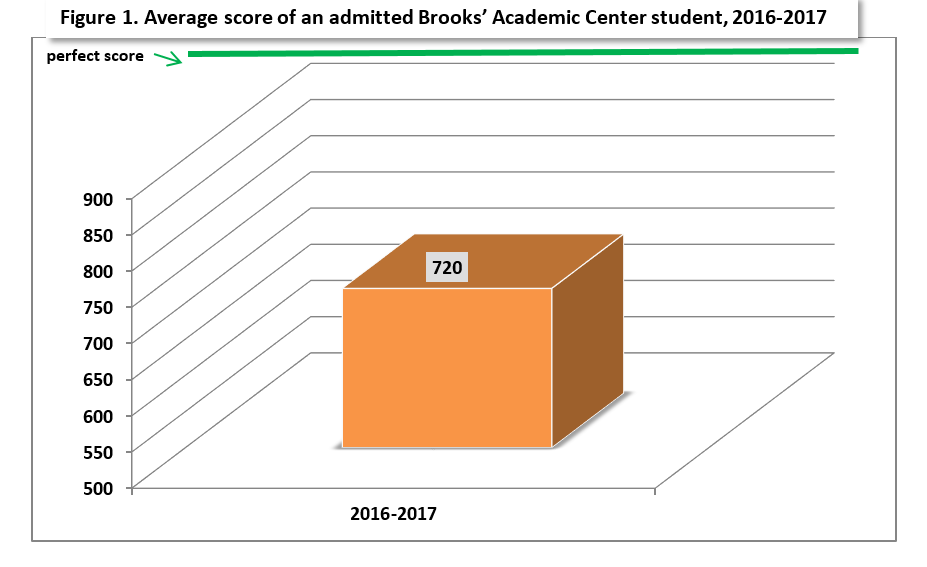 For the past seven years, CPS has been using a socioeconomic Tier system to select students for all of its selective admissions schools, including Academic Centers. Currently, thirty percent of seats are allocated to students with the highest academic performance citywide – regardless of their "socioeconomic status". The remaining seventy percent are allocated to each of four socioeconomic Tiers, with each Tier receiving 17.5%. Students compete for this portion based their academic performance in comparison with other students in their Tier.
Use of the Tier system has led to significant gaps in the academic achievement required for admissions between students from different parts of the City of Chicago. There is a particularly large gap between admissions scores of Tier 4 (the highest socioeconomic Tier) and Tier 1 (the lowest socioeconomic Tier) students – in the more competitive schools.
As shown below in Figure 2. Brooks students admitted in its initial year have a similar academic level.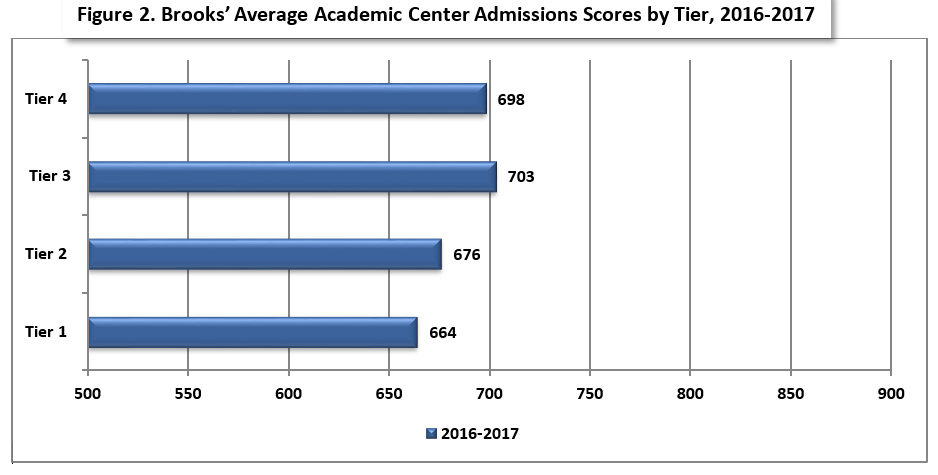 Despite the closeness of the means across the various Tiers, in 2016-2017 cut-off scores for Tier 1 and Tier 2 students (590 and 589 points) were significantly lower (about 7 points) than those of Tier 3 and Tier 4 students (669 points). This means that while on average the academic profile of students is similar across the Tiers, to fulfill its quota in each Tier, on the margin students with lower scores were admitted from Tier 1 and Tier 2 as shown in Figure 3.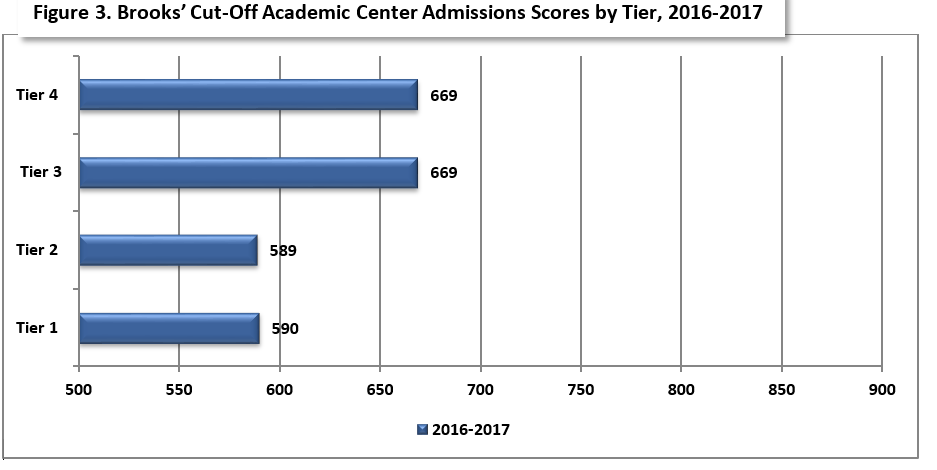 With such a small entering class of 7th graders, it's quite possible that Brooks will be open to students seeking to enter the Academic Center in 8th grade.
Programs
The Brooks Academic Center will be one of 12 schools in the State of Illinois to pilot a new College Board Capstone Research Program, which invites students to embark on a two-year research project on a topic selected by a Brooks students.
Academics
Given the newness of the school, no information is currently available about Brooks' Academic Center academic achievement.