Contact Information
Principal:
Janice Wells
Phone:
773-535-8350
Web site:
www.southshoreinternational.org
Address:

1955 East 75th Street

Chicago, IL 60649

Freshman class size:
165 current, 230 potential (Selective Enrollment only)
Total enrollment:
TBD (grades 9 – 12)
Background
South Shore International College Prep (SSICP) opened its doors in the fall of 2013. This newest edition to the Selective Enrollment High family resides in a brand new building which cost nearly $100 million.
In addition to the Selective Enrollment program, the SSICP building will also house an International Baccalaureate (IB) and Career and Technical Education Program (CTE). The IB and CTE programs have different curriculums and a different, less rigorous admissions process than the Selective Enrollment program. Combining Selective Enrollment students with students admitted through a different process – within the same building – is a relatively new "trend". Among the ten Selective Enrollment High Schools, only Westinghouse, Jones College Prep and more recently Hancock have a student base that is not 100% Selective Enrollment.
Admissions
In the modest recent admissions cycle (2016-2017), South Shore's average score staged a modest recovery (+14 points) to 663 on the 900 point admissions scale after last year's decline of nearly 50 points. Last year was the first year that CPS used the tougher MAP test as the 7th grade standardized test in its admissions formula.
In its debut admissions year (2013-2014), SSICP posted a composite score of only 699, giving it the lowest admissions score in the Selective Enrollment High School family. To put this score in perspective, a student with a 699 score could have 2Bs, 2Cs and test scores in only the top 25%.
It's understandable that South Shore as an unproven commodity would have low admissions scores. However, in addition to its low composite score, too few qualified students (e.g., meeting the minimum 650 score on the 900 point admissions scale) applied to SSICP in its initial year. In fact, SSICP has slots for an additional students – should enough qualified students apply. To fill these seats, SSICP has been actively seeking academically qualified students as transfer candidates.
In the 2016-2017 admissions cycle, South Shore's average score was still the lowest in the Selective Enrollment High School universe at 649 points, down 47 points from last year's 696. The average score fell the prior year as CPS used the tougher MAP test as the 7th grade standardized test in its admissions formula. Average scores at South Shore fell evenly across all Tiers — about 50 points.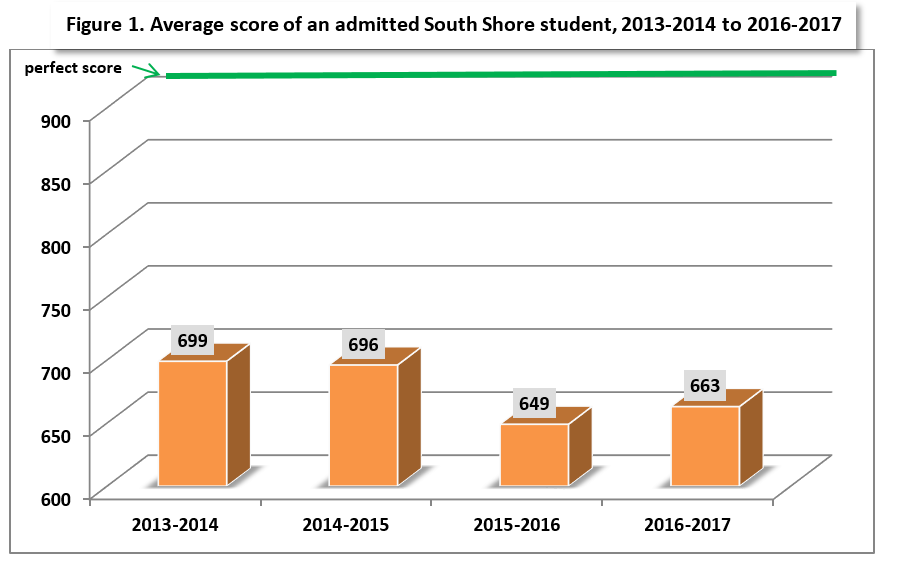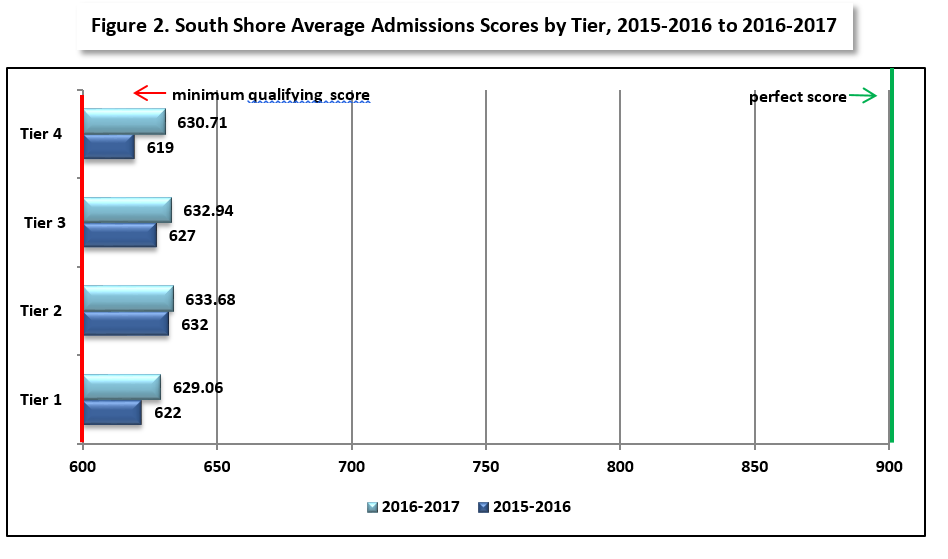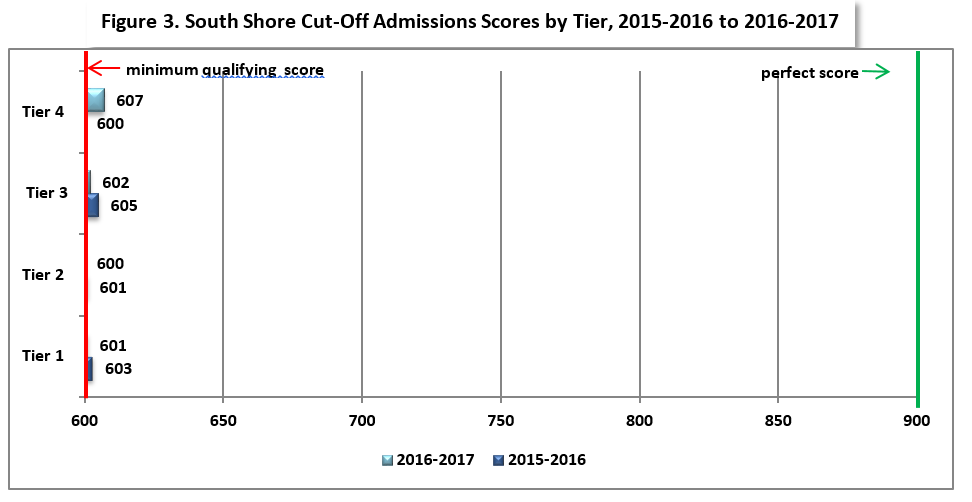 As shown in Figure 3. South Shore Cut-Off Admissions Scores by Tier, cut-off scores for any South Shore student admitted in the Tier system are at the "minimum qualifying score" level.
Programs
SSICP offers Honors level classes in a variety of topics including English, Algebra, Geometry, Pre-Calculus, Calculus, Chemistry, Physics, Anatomy, Biology, US History, and World History.
Advanced Placement classes are available in areas including Government, Psychology, Literature, Language and Composition, Biology, Chemistry, Calculus, Statistics, American History, World History, and Spanish. In addition to offering various levels of Spanish, SSCIP will offer a full Chinese language curriculum that includes Mandarin I, II, III, and IV. Electives will include Computers, Journalism, Speech and Rhetoric, Dance, Film, Music, and Band.
SSICP students could potentially participate in a variety of sports including basketball, bowling, cheerleading, cross country, football, golf, soccer, softball, tennis, track and field, volleyball, and wrestling. Activities include chess, Chinese Club, Model UN, National Honor Society, and Spanish Club.
Performance
In 2014, South Shore released its first batch of test performance data for its junior class. As a partial Selective Enrollment High School. South Shore academic performance results are for the school as a whole — the Selective Enrollment portion is not broken out separately from the technical school portion. It is quite possible that Selective Enrollment South Shore results — if reported separately would be higher than than the results described below.
The ACT is the most widely used college admissions test, so its scores provide a useful guide for comparing high school academic performance. The test contains four sections: English, Mathematics, Reading, and Science. In addition, students receive a composite score which is the average of these sections. The score of any of these sections and the composite range from 1 to 36.
Selective Enrollment High School students achieved an average composite score of 24.5 (approximately 75th percentile nationally) in 2016. This compares to South Shore's 2016 Composite score of 17.7 (approximately 35th percentile nationally) and Chicago's 18.6 Composite score (approximately 38th percentile nationally) putting South Shore not only below the national average but below the City of Chicago average.
2016 Performance on ACT College Readiness Benchmarks

The ACT organization has defined four "College Readiness Benchmark Scores" — median test scores that are predictive of student "success" in the relevant college courses. ACT defines "success" as a 50% or higher probability of earning a B or better in the corresponding college coursework.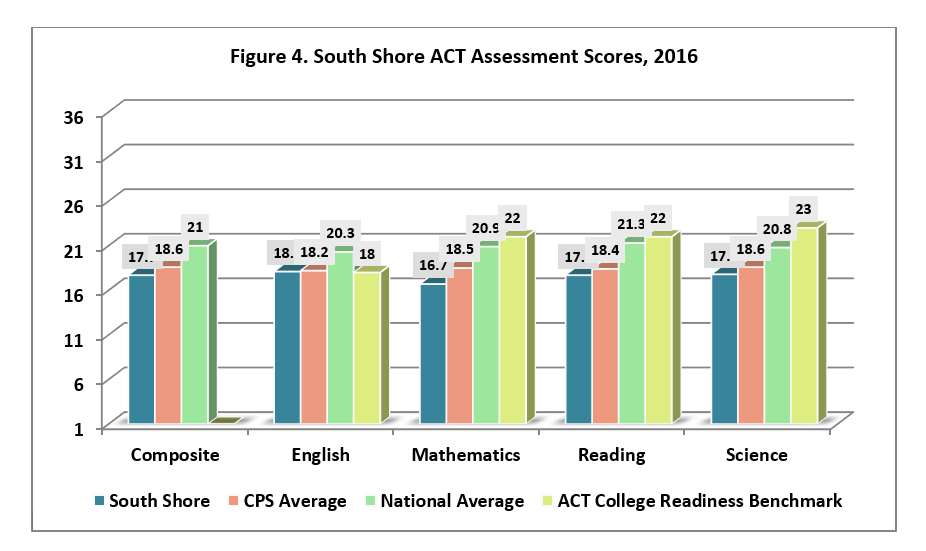 In 2016, on average South Shore students met only one of the four College Readiness Benchmarks. South shore juniors on average met the College Readiness Benchmarks for English (18.1 vs. the ACT Benchmark of 18), but missed those for Mathematics (16.7 vs. the ACT Benchmark of 22), Reading (17.7 vs. the ACT Benchmark of 22), and Science (17.8 vs. the ACT Benchmark of 23).
In 2016, 57% of South Shore juniors met the ACT College Readiness Benchmark for English, 17% met the ACT College Readiness Benchmark for Reading, 10% met the College Readiness for Math, and 18% met the College Readiness Benchmark for Science as shown below in Figure 5.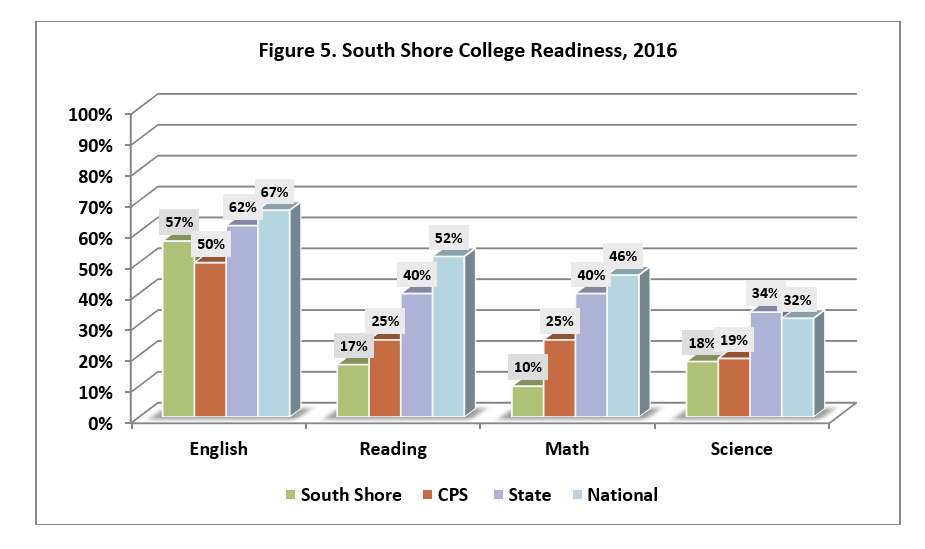 South Shore's Composite ACT scores have been flat over the past several years and at 17.7 are below the CPS average of 18.6 in 2016.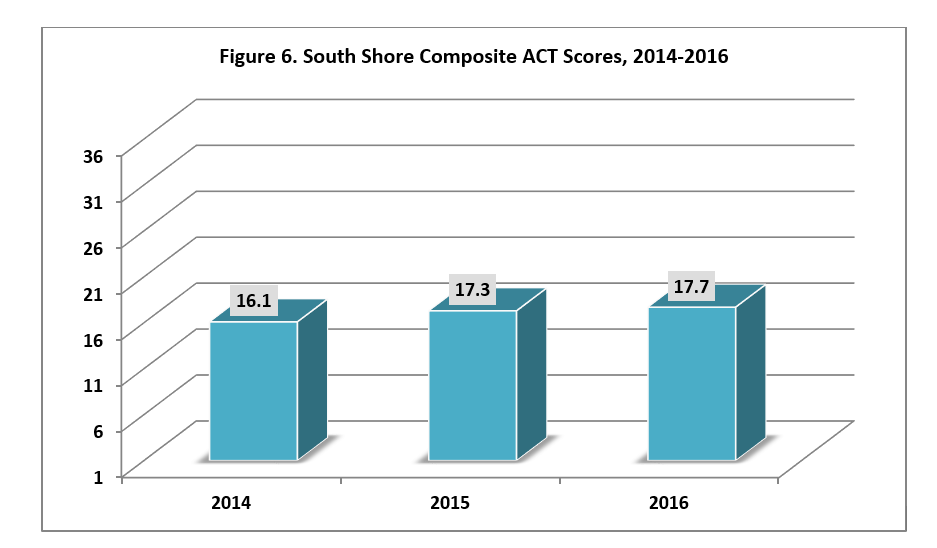 South Shore's 2016 State of Illinois and National Ranking

South Shore is not ranked by US News and World Reports in either the State of Illinois or nationally.
For additional academic information about South Shore College Prep, click here for a State Report Card.