Contact Information
| | |
| --- | --- |
| Principal: | Brian Tennison, BCTennison@cps.edu |
| Admissions Director: | Tara Carroll |
| Phone: | 773-534-5400×23605 |
| E-mail: | tecarroll@cps.edu |
| Web site: | www.lanetech.org |
| Address: | 2501 West Addison Street, Chicago, IL 60618 |
| Freshman class size: | 1,200-1,300 |
| Total enrollment: | 4,208 (grades 9 – 12) |
Admissions
The average score of an admitted student recovered modestly (+11 points) in 2016-2017 (the most recent admissions cycle), moving from 809 to 820 after a 24 point decline the prior year, as shown in Figure 1. Last year, CPS used the tougher MAP test for the 7th grade standardized test in its admissions formula for the first time. This triggered an overall decline in admissions scores throughout the Selective Enrollment High School family. The use of the MAP test triggered the steepest decline among the scores of the least competitive Selective Enrollment schools and scores of Tier 1 and Tier 2 students at all scores.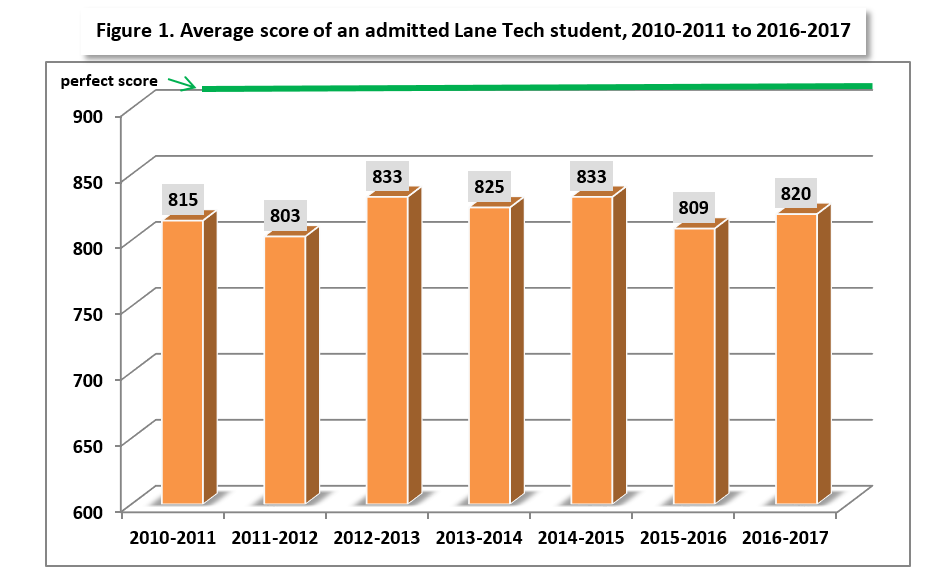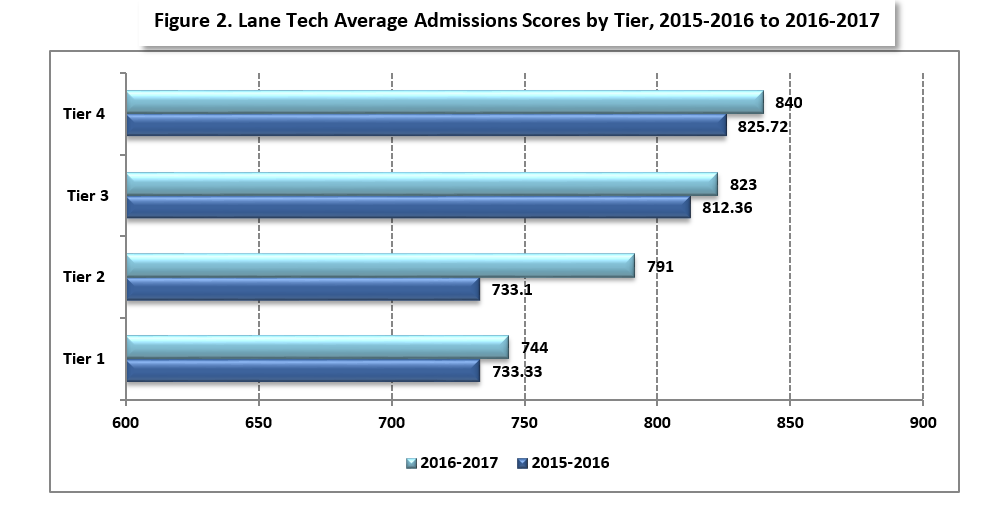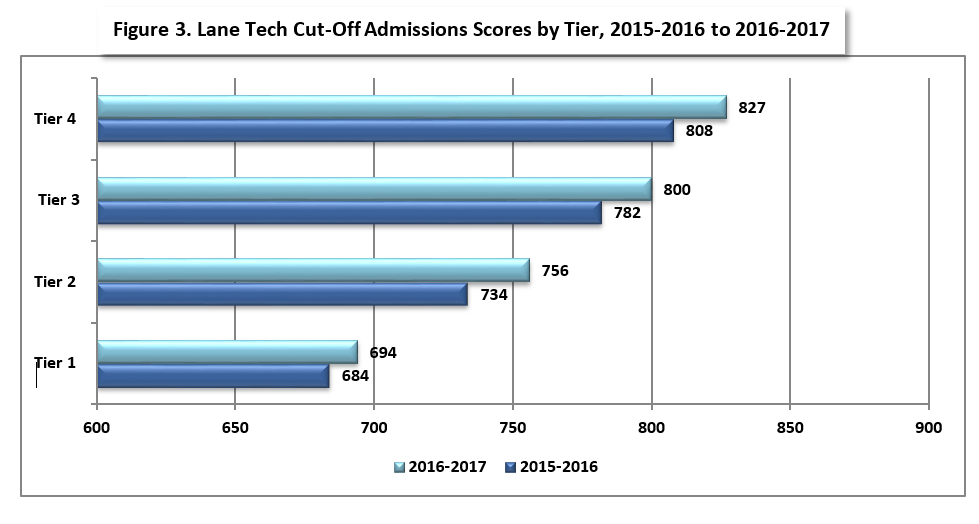 For the past seven years, CPS has been using a socioeconomic Tier system to select students for all of its selective admissions schools. Currently, thirty percent of seats (sometimes called "Rank") are allocated to students with the highest academic performance citywide – regardless of their "socioeconomic status". The remaining seventy percent are allocated to each of four socioeconomic Tiers, with each Tier receiving 17.5%. Students compete for this portion based their academic performance in comparison with other students in their Tier.
Use of the Tier system has led to significant gaps in the academic achievement required for admissions between students from different parts of the City of Chicago. There is a particularly large gap between admissions scores of Tier 4 (the highest socioeconomic Tier) and Tier 1 (the lowest socioeconomic Tier) – in the more competitive schools.
In the 2016-2017 admissions year, there was an 96-point gap between the average score of an admitted Lane Tech's Tier 4 and Tier 1 student. In addition there was a 133-point gap between the cut-off score of an admitted Tier 4 and Tier 1 students. The existence of sizable gaps in admissions scores means that students are being admitted to Lane Tech (and other competitive Selective Enrollment High Schools) with dramatically different academic backgrounds.
Lane Tech Heritage
Lane Tech is the largest high school in Illinois and the Lane Tech Alumni Association, with over 5,900 active members, is the largest high school alumni association in the United States. Lane Tech was founded in 1908 as a boys' vocational institute, offering preparation in trades including carpentry, cabinet making, foundry, forge, welding, etc. In 1930, Lane Tech's mission changed from technical institute to college preparatory school. Despite this transition, traces of its technical heritage remain in its emphasis on hands-on applications.
Programs
In 2012, a new principal, Dr. Dingnam, previously a Lane Tech Assistant Principal took over from long time Principal, Dr. Antoinette LoBosco. Dr. Dingnam, a Lane Tech grad, joined the Lane Tech faculty in 1999, teaching biology, chemistry, and physics. In 2014, Dr. Dingnam announced his decision to take another position. Subsequently Ms. Anderson, formerly an Assistant Principal at Lane and its first Academic Center Director, was chosen as the new Lane Tech Principal. However, after only a year at the helm, she also announced her departure.
In the summer of 2016 — shortly before the new academic year, the Lane Tech LSC chose a new principal, Brian Tennison as its new leader. Mr. Tennison is the 4th principal at Lane Tech in 5 years. As a non-Lane Techer, Mr. Tennison represents a departure in Lane Tech tradition. Prior to becoming the Lane Tech Principal, Mr. Tennison was a long time history teacher at Whitney Young and an Assistant Principal at Taft High School.
Five years ago, Lane Tech opened an Academic Center (LTAC), which offers advanced programs for 7th and 8th grade students as well as a guaranteed seat at Lane Tech High School. Lane Tech is the only Selective Enrollment High School on the north side with an Academic Center. The other two Selective Enrollment High Schools with an Academic Center are Whitney Young (downtown), and Lindblom (south side). Assuming that a cadre of LTAC students elects to stay at Lane Tech for high school, Lane Tech's Academic Center should provide a feeder group of academically advanced students for its high school, thereby boosting its overall caliber.
Lane Tech offers concentrations in six areas: honors, college core, technology, architecture/engineering, art, and music. Advanced Placement (AP) courses in English, history, math, science, art, music, computer science and world languages are offered. Each year, Lane seniors earn about $3 million in scholarships. More PhDs have graduated from Lane than from any other high school in the nation.
Lane Tech's Alpha Program provides a four year accelerated curriculum in Math, Science, English – for academically advanced students that are admitted to Lane and then invited to join.
One of the highlights of Lane's Alpha Program is its Alpha STEM (Science, Technology, Engineering & Mathematics) program. In September 2012, Lane Tech opened a brand new, state-of the-art STEM wing. This new STEM facility includes two multipurpose laboratories, three lecture facilities, and a new Aquaponics facility. In addition to this new facility, Lane has expanded its Alpha STEM curriculum.
Lane offers over 50 STEM courses including Aquaponics, Application Development, Engineering, Robotics, and Web Design. Lane's Alpha STEM program includes a wide variety of Advanced Placement (AP) and Honors classes. A number of Alpha STEM students conduct their research at a university or professional lab with the assistance of professors or professional researchers.
Lane Tech has also expanded its Computer Science offers. Current offers include AP classes in Computer Science, and Honors classes in Computer Programming, Elements of Computer Systems, Exploring Computer Science, Media Computation, Software Design, and Web Development. Currently, Lane Tech offers more computer science classes than any other Selective Enrollment High School.
It's latest computer addition is its Innovation and Creation Lab, where students create products using 3D printers and carvers. The lab includes six 3D carvers, five 3D scanners and nine 3D printers.
Lane offers the largest selection of science courses in Chicago including AP classes in Biology, Chemistry, Physics and Environmental Science and Honors classes in Anatomy & Physiology, Aquaponics, Astronomy, Biochemistry, Biology, Chemistry, Engineering Design, Forensic Science, Genetics, Horticulture, Marine Biology, Microbiology, Neuroscience, Physics, Robotics, and Zoology.
Last, Lane boasts a deep World Languages curriculum including AP classes in Chinese Language and Culture, French Language and Culture, German Language and Culture, Spanish Literature, and Latin. Lane also offers Honors classes in Arabic (I), French (I, II & III), German (I, II & III), Italian (I, II III), Japanese (I), Latin (I, II, III & IV), Mandarin (I, II & III), and Spanish (I, II).
Activities/Clubs/Sports
Students can choose to join a variety of Ethnic Clubs including British, Cambodian, Chinese, Dominican Republic, Ecuadorian, Filipino, French, German, Greek, Guatemalan, Italian, Japanese, Jewish, Korean, Lithuanian, Muslim, Pakistani, Polish, Romanian, Ukrainian, and Vietnamese. The Lane Athletic Department sponsors teams in all sports offered by the Chicago Public Schools' Athletic Association. These sports include baseball, basketball, bowling, cheerleading, chess, cross country, football, golf, lacrosse, soccer, softball, swimming, tennis, track, volleyball, water polo, and wrestling. Throughout the years, Lane students have won more than 500 city championships.
Academics
2014 Prairie State Achievement Test (PSAE) Reading, Math and Science Proficiency
The performance of 11th graders on the PSAE (which includes the ACT) is used by the State of Illinois to assess reading, math, and science proficiency. In 2014, 51% of Illinois juniors met or exceeded standards in Reading and Math; while 49% met or exceeded standards in Science.
For 2014, 93% of Lane Tech 11th graders met or exceeded standards in Reading, 92% met or exceeded standards in Math, and 86% met or exceeded standards in Science. In addition, Lane Tech has a small percentage of students who are below standards (ranging from 7-14%). These are strong numbers. However, given its status as a Selective Enrollment High School and its focus on STEM, there is a rather modest percentage of students who exceed standards as well — particularly in Math (12%) and Science (17%).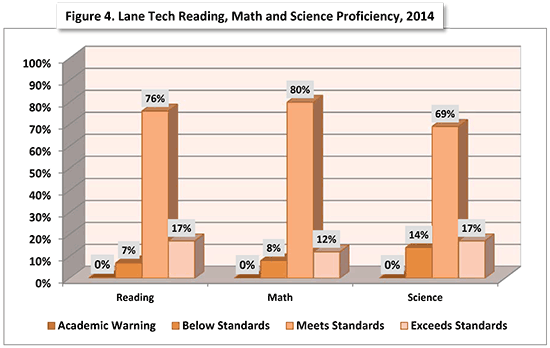 ACT Performance, 2016
The ACT is the most widely used college admissions test, so its scores are a useful guide for comparing high school academic performance. The test contains four sections: English, Mathematics, Reading, and Science, a composite score is the average of these sections. The score of any of these sections and the composite range from 1 to 36.
Selective Enrollment High School students achieved an average composite score of 24.1 (approximately 75th percentile nationally) in 2016. This compares to Lane Tech's 2016 composite of 25.7 (approximately 83rd percentile nationally) and Chicago's 18.2 (approximately 37th percentile nationally), putting Lane Tech significantly above the District (City of Chicago) average and comfortably above the national average.
Performance on ACT College Readiness Benchmarks
The ACT organization has defined "College Readiness Benchmark Scores" – median test scores that are predictive of student "success" in the relevant college courses. ACT defines "success" as a 50% or higher probability of earning a B or better in the corresponding college coursework.
In 2016 Lane Tech students on average met all four ACT College Readiness Benchmarks. Lane students on average achieved a score of 26.2 for English (vs. the ACT Benchmark of 18), 26.2 for Reading (vs. the ACT Benchmark of 22), and 25.2 for Math (vs. the ACT Benchmark of 22) and 24.5 for Science (vs. the ACT Benchmark of 23).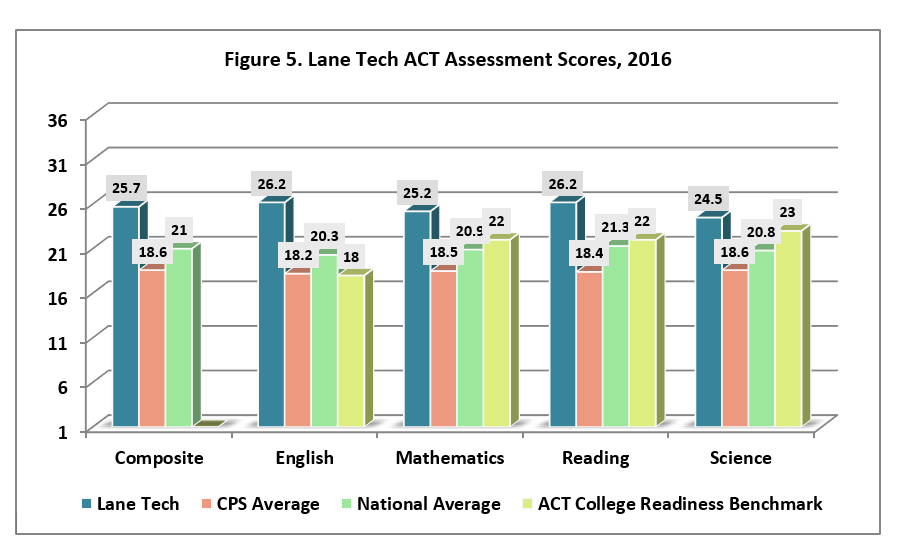 In 2016, 81% of Lane Tech juniors scored high enough to be considered "College Ready" in Reading, 85% scored high enough in Mathematics, 69% scored high enough in Science, and 97% scored high enough in English.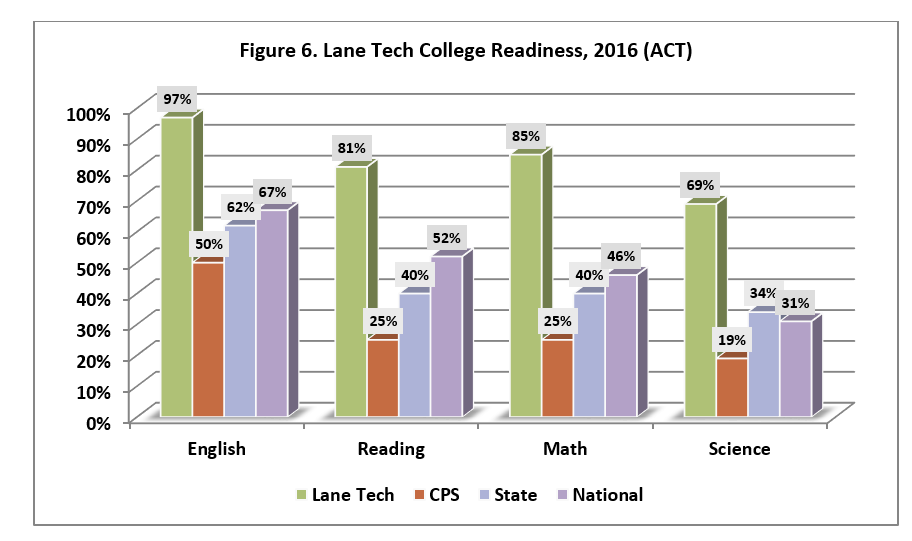 Trends in ACT Scores
From 2005 to 2016, Lane Tech's composite ACT score has moved up steadily from 21.6 or 56th percentile in 2005 to 25.7 or approximately 83rd percentile in 2016 as shown below.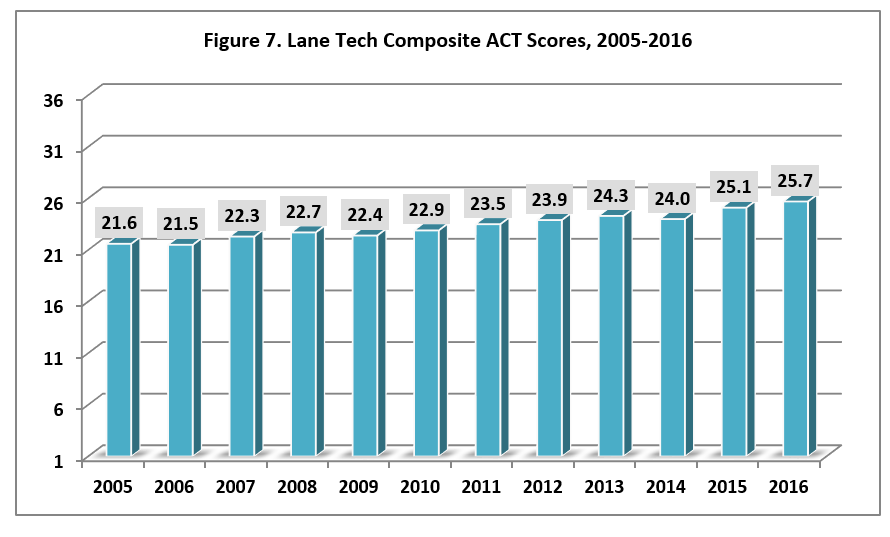 Lane Tech's 2016 State and National Illinois Ranking
State of Illinois Rank (

US News & World Reports

): 6. In 2016, Lane Tech was ranked 6th in the state based on its comparison of high schools using various benchmarks for "College Readiness".
National Rank (

US News & World Reports

):172. In 2016, Lane Tech was ranked 172th in the country based on US News & World Reports' analysis of "College Readiness".
For additional academic information about Lane Tech, click here for a state report card.