...attention 7th and 8th grade parents
Get Your Child into a Selective Enrollment High School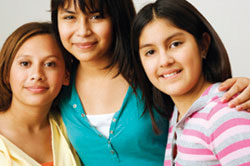 Do you know the percentage of students accepted into a Chicago Selective Enrollment High School? A mere 17%! In reality, far fewer are accepted to the more popular Selective Enrollment schools - often less than 10%!
Get Ready, Get Prepped, Get In!
Registration is NOW OPEN for our Spring 2016 classes to prepare for the 7th Grade NWEA/MAP (7th graders) and 5th Grade NWEA/MAP (5th graders).
Get your child ready for the competitive admissions process.
test scores matter more...
Test scores increasingly determine whether a child gets into one of the top schools. The average GPA for all Selective Enrollment High Schools is about 3.7 while the GPA at the more competitive schools is already a perfect 4.0. Less than stellar 7th grade grades will exclude your child, but superior grades on their own will not be enough to get in.
CPS' use of the more rigorous 7th grade MAP test means that the 7th grade test counts more in the Selective Enrollment High School admissions process. SelectivePrep's rigorous spring program will prepare your child for the advanced math and reading your child must master to get a top score.
With SelectivePrep, your child can approach the Selective Enrollment admissions process from a position of confidence and strength.
...attention 5th and 6th grade parents
Get Your Child into an Academic Center
Chicago's Academic Centers offer accelerated programs for 7th and 8th graders and a path towards an excellent high school. These schools are some of the highest caliber middle schools in the entire state.
As parents become more aware of Academic Center options, competition for slots is rapidly increasing - and admissions scores continue to increase. Last year, Whitney Young Academic Center accepted only 10% of students who applied! A relatively recent addition, Lane Tech Academic Center, has become increasingly competitive -- approaching Whitney Young in the scores needed for admissions.
CPS's use of the more rigorous 5th grade MAP test means that it counts more in the Academic Center admissions process. SelectivePrep's 5th grade NWEA/MAP program will get students up to speed.

The Academic Center Admissions Test contains problems that most students have never encountered. SelectivePrep will provide your child with exposure to and intense practice with these unusual questions. This exposure will be invaluable in providing your child an edge on test day.
Our goal is simple...to help your child excel in an increasingly competitive admissions process
How We Do It
We teach in a straightforward manner, use few fancy words, and show students the most efficient method to reach the correct answer. We do not believe in tricks or magic. Your child will find the SelectivePrep program so rigorous and comprehensive that he/she will be not only well prepared on test day but also better equipped to handle his/her school work.